Hey, I'm walkie and talkie! Can you walkie and talkie, general? And this here is the rooty-patooty aim and shooty!
-''Idiotic Army Soldier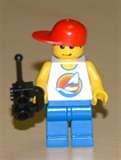 The
Walkie Talkie
is a LEGO part that was used by LEGO
army people guy thingys
. The National army LEGO then stated, "Give us those minifigures and give 'em walkie talkies!" And, well, that's it. They are used there. Hope you weren't expecting more. If so, get the hek out of here! Wrong wiki! That's right, get out of here looser! Are you still reading this?